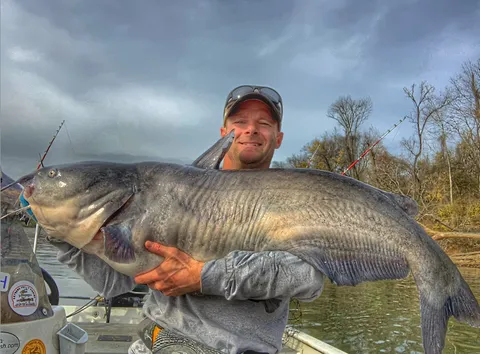 Catching giant river catfish such as this one made Joe Jellison a YouTube fishing sensation.
YOUTUBE was founded on Valentine's Day 2005. It grew rapidly, and now, according to Wikipedia, at least 500 hours of content are uploaded to the Internet platform every minute and users worldwide watch more than one billion hours of video each day. It is little wonder that most of us have a hard time unraveling the secrets of how to attract more viewers to YouTube pages.
Capt. Joe Jellison, a catfishing guide from Chattanooga, Tennessee, however, has figured it out. As of this writing, Jellison's Chatt Cats Fishing channel has 118,000 subscribers, which ranks high among folks in the fishing business and much higher than the numerous other cat-fishing channels available. His efforts have earned him YouTube's Silver Play Button Award, which is given to channels that have more than 100,000 followers.
"I started my YouTube channel in 2013 but didn't start taking it seriously until 2015," said Jellison. "Steve Douglas, the Catfish Dude, was my biggest inspiration. He pioneered the catfishing sport on YouTube, and I thought it was something I could do as well."
It's apparent Jellison learned a lot from watching Douglas, as he has surpassed the Catfish Dude, who has 106,000 subscribers.
NOT FOR THE MONEY
Jellison said he had a fairly specific plan when he got serious about youtubing. "Having a consistent upload schedule was critical," he said. "Not only is it important for my audience, but also the YouTube algorithm. I upload videos every Sunday and Thursday at seven-thirty p.m., which is when YouTube analytics says more people are on than at any other time."
"Yeah, I was a little surprised," said Jellison. "But at the time, when my YouTube channel took off, there were fewer catfishing channels than there are now. So it made sense."
Jellison admits that now, the thousands of hours viewers spend watching his videos garner a nice secondary income thanks to the advertising views. Money, though, was not his primary motivation.
"I just wanted to share my fishing adventures and experiences with other people," he said. "Money wasn't really a thing until my channel started growing. I didn't pay too much attention to the Google Ads income portion. I focused more on views, because I knew that if I got lots of views, the money would come in. The YouTube algorithm has changed so much over the years. Now, if your video is longer than eight minutes, you can place as many ads in it as you want, which can help you generate more money from that video. If it's under eight minutes then YouTube will place an ad at the beginning of your video and maybe at the end."
Currently, YouTube has minimum requirements to monetize videos by showing ads. For a channel to garner ads, it must have a minimum of 4,000 hours of watchtime within the past 12 months and at least 1,000 subscribers.
After many of his followers asked him to take them fishing, he took up guiding for cats and occasionally, bass.
BECOMING A GUIDE
While Jellison has since added the title, "Catfish Guide," he didn't begin guiding until after he began youtubing. He says his success on YouTube motivated him to obtain his US Coast Guard Captain's License and start guiding. He is married with children and has a full-time job as a schoolteacher, but many of his weekends and summer breaks from teaching are now spent on the water.
"I started guiding in March 2019. And yes, my Chatt Cats YouTube channel inspired me," he said. "I had a lot of requests from my [YouTube] fans to take them fishing. I thought it was the perfect thing to do during the summer to make money when I'm not in the classroom teaching. I love it!"
Jellison works in partnership with Scenic City Fishing Charters, but Chatt Cats is his primary marketing tool. His fellow guides laugh about the number of their clients who often exclaim, "Wow! You actually know Chatt Cats?"
Jellison has recently scaled back on his YouTube video work. Since he began seven years ago, the YouTube competition—in the fishing world and more specifically, the catfishing world—has increased dramatically.
"There's a lot of people in the YouTube game these days. I now consider myself a veteran," he adds with a smile.
He admits it is hard to focus on youtubing and guiding with 100 percent effectiveness.
"Once I reached one hundred thousand subscribers and started guiding, I scaled back on publishing videos. It's very hard for me to guide and be a YouTuber at the same time."
Of course, his channel and its videos see thousands of hours of views every month, with residual advertising income.
Jellison admits that now, if forced to either guide or be an awarding-winning YouTuber, he would definitely choose to guide.
"There's something special about seeing someone in action catching a fish of a lifetime. I enjoy being that person who can help create long-lasting memories for clients. The relationships I've built with my clients carry a lot of value and meaning. Some of my clients have become close friends, which has been a true blessing in my life."
Captain Jellison and his family celebrate YouTube's Silver Play Button Award, which he earned once his channel amassed 100,000 followers.
---
CAPT. RICHARD SIMMS is owner and guide with Scenic City Fishing Charters. He began his career as a Tennessee game warden before his second career as a broadcast journalist and writer. Now he is semi-retired, guiding part-time while continuing to write and book trips for his guide partners, including Captain Jellison.
From the Summer 2022 Issue of Guidefitter Journal.
EQUIPMENT
Captain Jellison shoots video with a Hero 4 GoPro and edits with Magix Video Pro software.
Just like fishing equipment, however, having the right equipment isn't nearly as important as having the skills to use it. There are books and, ironically enough, videos on YouTube to help you learn videography and editing techniques. Expect to spend some quality time learning the basics. Jellison is now proficient with shooting and editing but says 15-minutes of video will take him about two hours to edit. When climbing the learning curve, plan to spend much longer editing.
MARKETING
Whether your YouTube channel is primarily for marketing or primarily to generate income, you need to think of it as an important part of a bigger job and is not something you can just you can dabble with on the side. Here are some tips, in no order of importance, to help you make the most of your time.
Be personable. Be yourself.
Create captivating thumbnails and titles. Newspaper and magazine editors know that headlines and compelling photos are the most critical element for attracting readers. YouTube is no different.
Collaborate with other YouTubers. Each of you will benefit.
Engage with your audience—answer questions, give away stuff, live stream, etc.
In terms of giveaways... Over time, Jellison attracted the interest of retailers and manufacturers, who in turn, provide products that he gives away to attract more viewers.
Have a consistent upload schedule. Jellison emphasizes that in his early years, it was essential for viewers to know exactly when a new video was going to drop.
Most people know that sharing a YouTube video link on Facebook hurts you on the Facebook algorithm. That, however, doesn't mean you shouldn't do it, especially if have thousands of specific friends or followers on those other platforms that are looking for it
Quality content must include high-definition video and good audio. Many beginning YouTube producers forget the importance of good audio. Investing in a shotgun mic or something similar is a good idea. An in-camera microphone is not going to get good-quality audio.
Set up an online store for fans to purchase branded merchandise. Jellison sells Chatt Cats hoodies and such.
Upload videos consistently.