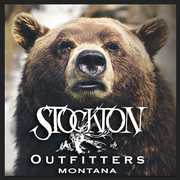 Spring Black Bear Hunt (5 Days)
Spring Black Bear Hunt (5 Days) at Montana, United States, Montana (MT) is a Big Game hunt on

public land

that starts on May 19th until June 14th.Costs from 

$3750

 to 

$4250

.We are hunting Bear and Black Bear.
Description
You and your guide have checked the wind and made the voyage to an open meadow with deep green grass surrounded by thick timber. Your guide tells you that they have spotted several bear in the area and positions you behind some brush instructing you to keep an eye on a near by spring. Your guide then let's out a blood curdling scream which emulates a calf elk in distress. The call itself sends shivers through your body as you look back. Your head turns again toward the spring and as if appearing from nowhere a large cinnamon bear is heading straight in your direction. He is on the hunt and headed straight toward your position with his jaws popping as you raise your rifle.
Ranked by North American Hunter magazine (May 2004) as one of the world's top ten Black Bear Outfitters, a Stockton Outfitters' Spring Bear Hunt is truly spine tingling. Our bear hunts are all free chase. No Dogs or bait are used. We combine spot and stalk techniques with our world renowned calling system to attain e
Pricing Details
5 Days Hunting/5 Days Lodging (Sugar Loaf Lodge & Cabins) Includes professional guide and meals
2 Hunters : 1Guide - $3,750 per client.    1 Hunter : 1 Guide - $4,250 per client.
2017 Available Dates:
Week 1 -  May 19 - 24, 2019
Week 3 - June 2 - 7, 2019  
Week 4 - June 9 - 14, 2019     
Terms & Conditions
50% deposit is required to secure your reservation. The balance is due and payable upon arrival.
Stockton Outfitters maintains a no refund policy, but the deposit can be applied to future services if reserved one year from the date of contract. Booking Alterations must be made greater than 60 days from the start date of your scheduled hunt.
Breakdown
Bert Mooney Airport (BTM)
From May 19th to June 14th
Accommodate Disabled Clients?
Crossbow, Bow, Handgun, Muzzleloader, Rifle, Shotgun