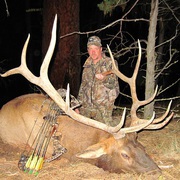 Trophy Mule Deer Hunt
Trophy Mule Deer Hunt at Monument Oregon, Oregon (OR) is a Big Game hunt on

private land

.Costs from 

$6500

 to 

$14000

.We are hunting Deer and Mule Deer.
Description
A true trophy Mule Deer Hunt............200" bucks taken every year. I only take 4 guys a year on this hunt and it's expensive. The hunt is $6,500 with the following trophy fees based off of gross Boone & Crockett score.........bucks less than 180" - $0, bucks 180" - 194" - $4,500.00, bucks 195" and better $7,500.00
Breakdown
Accommodate Disabled Clients?