South Carolina, United States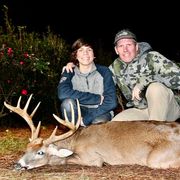 Alligator Hunts
Alligator Hunts at South Carolina, United States, South Carolina (SC) is a Exotic/Safari hunt on

public land

that starts on September 1st until May 31st.Costs from 

$1250

 to 

$4250

.We are hunting Alligator/Caiman and American Alligator.
Description
Red Bluff Lodge was founded in 1998 as a full-service shooting sports and hunting destination specializing in high quality deer, hog, alligator, and turkey hunts. We are located in one of the most pristine hunting regions in the country, in the heart of the lowcountry of South Carolina. Our focus is on customer satisfaction coupled with an understanding of wildlife management. We strive to provide our hunting guests with their greatest opportunity to harvest deer, turkey, hog and alligator on some 4,000 acres under management.
We are South Carolina's only full service lodge offering alligator hunts in all four public alligator hunting units, and a variety of private lands we have under management. Red Bluff Lodge's owner, Jim Boone, is a United States Coast Guard (USCG) licensed captain and has been hunting alligators since the inception of the season in 2007. Our customers have enjoyed a 90% success rate!
Pricing Details
Starter (over 4' and up to 7')..............................$1,250
Standard (over 7' and up to 9')..........................$2,250
Trophy (over 9' and up to 11')............................$3,250
Dinosaur (over 11') ...........................................$4,250
Alligators have size based cleaning and option specific processing fees.
All hunts include lodging, meals, guide service, field transportation, game tracking/retrieval, game dressing and cooling, and trophy care. Additionally, we can help arrange meat processing and taxidermy services for all of our target species.
Terms & Conditions
We try to schedule all hunts with moon phases and feeding times in mind to maximize your potential success. Certain dates have limited availability, so hunts should be booked well in advance to guarantee that your dates are open.
  A deposit of 50% for the total hunt cost is due within 7 days of the booking and the balance due upon arrival.

  The reservation will be reopened for booking if the deposit is not received within 7 days.

  Family groups will receive a 5% discount.

  Advance full payment qualifies your party for a 5% discount.

  Groups of 6 or more will receive a 5% discount.

  ALL deposits/payments are nonrefundable but FULLY transferable to another date.

  Only one discount will apply per booking.

  Hunters are asked to check-in at 1:30 PM on their scheduled day of arrival.

  For an additional fee, arrangements can be made for non-hunters, extra lodging, and meals.
Breakdown
South Carolina, United States
Savannah International Airport (SAV)
From September 1st to May 31st
Alligator/Caiman, American Alligator
Accommodate Disabled Clients?
Bow, Rifle, Handgun, Crossbow