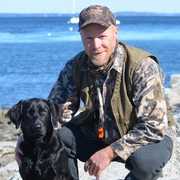 Big Game Hunts
Big Game Hunts at Maine, United States, Maine (ME) is a Big Game hunt.We are hunting Deer, Whitetail Deer, Moose and Wild Turkey.
Description
GUIDED MAINE DEER HUNTS
Southern Maine deer hunts are on terrain that consists of old farmsteads, oak and beech ridges, cedar swamps, and swales. Tree stand hunting is a favorite and most of my stands are ladder style stands and a few climbing sticks with lock-on platforms.
GUIDED MAINE MOOSE HUNTS
Hunting Maine's moose is a hunt of a lifetime. What a thrill to harvest the largest member of the deer family. With animals weighing in between 600 and 1000 lbs. you'll definitely want a helping hand.
GUIDED MAINE TURKEY HUNTS
Maine turkey hunting is a blast. To hear a bird gobble 15-20 yds away will test the nerves of the best of hunters
Pricing Details
Deer Hunting Rates
Deer:
$100.00/hunter/day, 3 day minimum. These hunts are semi-guided.
Moose Hunting Rates
Moose:
$3000.00/permit holder and sub-permit holder. This includes, room and board for two people, complete one on one guide service, transportation during the hunt and removal of animal from the woods.( butcher fees are not included or provided)
Turkey Hunting Rates
Turkey:
$125.00/hunter, daylight to noon.
Breakdown
Deer, Whitetail Deer, Moose, Wild Turkey
Accommodate Disabled Clients?