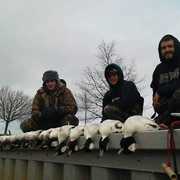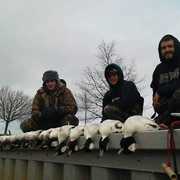 September Resident Canada Geese
September Resident Canada Geese at New York, United States, New York (NY) is a Waterfowl Hunt that starts on September 1st until September 25th.We are hunting Canada Goose, Atlantic Canada Goose, Giant Canada Goose, Lesser Canada Goose and Goose.
Description
What is it about spring snow goose season that people crave? Is it the vortex of geese? The large decoy spreads? Or maybe the high bag limit and unplugged shotguns? What could possibly be better right? How about hunting dark geese, "snow goose" style?! Thats right! New York has some of the most liberal limits and regulations for resident Canada Geese, including UNPLUGGED SHOTGUNS and a 15 BIRD PER PERSON daily bag limit! Whats even better, is these young early flyers respond to calls and decoys much better than snows! What happens mid season when the local birds wise up to the hunting pressure? Well, that's typically when we start to see our first waves of "migrators". Fresh birds, many times in larger flocks, keep our hunts rolling through the month. If a sore shoulder is what your looking for, look no further! We have just the spot for you!
Pricing Details
September resident goose hunts will begin early in the morning, and will end at 11 am. The price of $250 is for 1 days hunt for 1 person. A 50% deposit is required to hold your dates, the balance is due before or on the first day of your hunt. Party of 3 or less add $50 per person. Weekend dates add $25 per person
Terms & Conditions
We have discounted rates for hunters under the age of 18, as well as for military. The Pleasant Night Inn hotel in Carthage NY has agreed to provide our clients with discounted rates, as low as $75.00 per night, and we also offer packages that include lodging in a private waterfront cottage with meals included, call for pricing and availability.
At Black River Valley Outfitters, our guarantee is that we will do our absolute, very best, at putting you on the best possible location for obtaining whatever species of bird or fish you seek. Our goal is to not only make your trip successful, but to make it a fun experience that you will never forget. A 50% Non-Refundable deposit is required for all trips to hold your date(s). Remaining balance is due before the 1st day of your trip. Our guarantee is that we will do our very best to put you on a successful and memorable hunt. We also do not "over book" hunts, so that we have proper time between groups and hunts to properly and thoroughly scout for each group, and each hunt. However, we cannot change things that are out of our control such as weather, hunting pressure etc. that is just hunting. We do our very best when scouting before your hunt, and will have "backup" locations pre-scouted before each hunt to help ensure a successful hunt. With the exception of Spring snow goose hunts, if we, for any reason, have to cancel your hunt, we will issue a full refund if we cannot reschedule your group for a different day (Again, snow goose hunters please read our spring snow policies on our Snow goose page). Any deposits for hunts that are cancelled by the client or clients party, for any reason, will not be refunded. We will do everything we can to reschedule you or your group if possible, but hunts cancelled by the client(s) are non-refundable.
Lodging, meals, car rentals, license, federal waterfowl stamp, and gratuities are NOT included in the hunt.
Breakdown
Syracuse Hancock International Airport (SYR)
From September 1st to September 25th
Canada Goose, Atlantic Canada Goose, Giant Canada Goose, Lesser Canada Goose, Goose
Accommodate Disabled Clients?