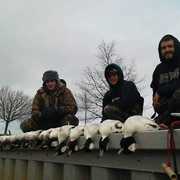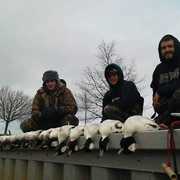 Spring Snow Geese
Spring Snow Geese at New York, United States, New York (NY) is a Waterfowl Hunt.

Costs from

 $125.00

 to

 $175.00

.

We are hunting Snow Goose and Goose.
Description
Our spring snow goose hunts begin at sunrise and end one half hour before sunset. Snow geese are the ultimate challenge for waterfowl hunters. These white devils have proven to be one of the toughest birds to harvest, especially the greater snow goose, which is the subspecies that makes up a large percentage of our migratory flocks in the Atlantic flyway. These birds have adapted to many hunting methods, which is partially what makes them so difficult to kill. To make our hunts successful, we have simply adapted our hunting strategies. Timing and location are the two most important factors with spring snow geese. We monitor the migration movement of these birds up the Atlantic flyway until they hit the Canadian border in order to time our hunts perfectly. Our hunting locations through the flyway are strategically located, as to put our decoys and hunters directly in the middle of the spring migration route.
Pricing Details
The cost of $175 is for 1 hunter for 1 day of hunting. Snow goose hunts begin at sunrise and continue until 11am. A 50% deposit is required to reserve your dates. Group discounts for parties of 4 or more are available.
Terms & Conditions
Spring snow goose hunts differ greatly from Fall waterfowl hunts. The birds are different, the weather is different, and overall there are very few similarities between fall hunts and spring hunts. Therefore, we have separate policies for our spring hunts. We stand by these policies without any exceptions. All spring snow goose hunts begin 1 half hour before sunrise and end at 11am. A NON-REFUNDABLE, 50% deposit is required to secure your dates. All snow goose hunts are scheduled based on what we have learned, and experienced throughout recent years. The migration and progress of the migration, is 100% weather dependent and is something that is completely out of our control. Any deposits for hunts that are cancelled due to weather, shifting of migration patterns, delayed or stalled migration, or lack of goose numbers that will hinder our hunters abilities to enjoy a satisfactory experience, WILL NOT be refunded. If your hunt is cancelled due to any of the circumstances mentioned above, we will reschedule you and your hunting party for another date. Lodging, meals, license / federal stamp, transportation, guide gratuities, and ammunition are not included in the price of the hunt. Hunters are responsible for providing these items on their own, and for being fully prepared for their hunt, which includes wearing the proper attire for the weather conditions and season. In other words, DRESS WARM! To keep our hunts safe, we require that hunters cooperate, and fully follow instruction from our guides at all times. Along with cooperation with our guides, all state and federal regulations must be followed. We reserve the right to ask any hunter that doesn't abide by state and federal laws to leave the field. We put 100% into our hunts, and all of our efforts are focused on giving hunters a quality hunt, with the best experience that is physically possible with the conditions that are given to us on that particular day. Our guarantee is that we will give 100% effort on your hunt and make it as fun and as memorable as humanly possible. Our main goal with every hunt and every hunter, is to provide an experience that will make you want to come back and hunt with us again the following season!
Breakdown
Syracuse Hancock International Airport (SYR)
Accommodate Disabled Clients?