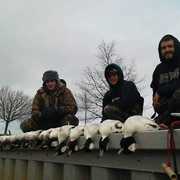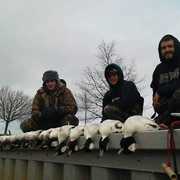 Spring Turkey
Spring Turkey at New York, United States, New York (NY) is a Big Game Hunt on

private land

.We are hunting Wild Turkey and Eastern Wild Turkey.
Description
At Black River Valley Outfitters we are proud to offer Eastern Turkey hunting at its finest! Our spring turkey hunting begins the 1st of May and continues throughout the month. In New York, we are only permitted to hunt until noon, so all hunts begin before sunrise and end at noon. The afternoons are spent scouting for the next mornings bird, and hunters are always welcome to accompany us during afternoon scouting. Our spring turkey hunts take place mostly in agricultural areas, leased and managed exclusively by BRVO or BRVO staff. We manage our flocks to produce mature, trophy quality toms each spring. Our season is usually fully booked months in advance, so if a spring turkey hunt is what your after, do not hesitate, call us today!
Pricing Details
The price of $300 is for 1 hunter, for 1 day of hunting. A 50% deposit is required to reserve your dates. 3 Day minimum for Spring Turkey
Terms & Conditions
We have discounted rates for hunters under the age of 18, as well as for military. The Pleasant Night Inn hotel in Carthage NY has agreed to provide our clients with discounted rates, as low as $75.00 per night, and we also offer packages that include lodging in a private waterfront cottage with meals included, call for pricing and availability.
At Black River Valley Outfitters, our guarantee is that we will do our absolute, very best, at putting you on the best possible location for obtaining whatever species of bird or fish you seek. Our goal is to not only make your trip successful, but to make it a fun experience that you will never forget. A 50% Non-Refundable deposit is required for all trips to hold your date(s). Remaining balance is due before the 1st day of your trip. Our guarantee is that we will do our very best to put you on a successful and memorable hunt. We also do not "over book" hunts, so that we have proper time between groups and hunts to properly and thoroughly scout for each group, and each hunt. However, we cannot change things that are out of our control such as weather, hunting pressure etc. that is just hunting. We do our very best when scouting before your hunt, and will have "backup" locations pre-scouted before each hunt to help ensure a successful hunt. If we, for any reason, have to cancel your hunt, we will issue a full refund if we cannot reschedule your group for a different day. Any deposits for hunts that are cancelled by the client or clients party, for any reason, will not be refunded. We will do everything we can to reschedule you or your group if possible, but hunts cancelled by the client(s) are non-refundable.
Lodging, meals, car rentals, license, federal waterfowl stamp, and gratuities are NOT included in the hunt.
Breakdown
Syracuse Hancock International Airport (SYR)
Wild Turkey, Eastern Wild Turkey
Accommodate Disabled Clients?