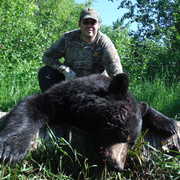 Fishing Trips - American plan
Fishing Trips - American plan at Québec (QC) is a Big Game Hunt that starts on May 25th until October 31st.

Costs from $800.00 to $1,500.00.

We are fishing Perch, Pickerel, Walleye and Northern Pike.
Description
Land of GIANT Pike and Walleye
ENJOY EVERY MINUTE OF IT
Why is Cooper Camp so famous for its high quality fishing?
It's because management has, from the outset, adopted and enforced strict practices regarding the up-keep of lakes and fishing quotas. Fish stocks are never stressed during the spawning season, so that the larger specimens can reproduce naturally. Also, two or three lakes are closed annually on a rotational basis so as to ensure proper replenishment of fish stocks. Meanwhile, two other lakes are kept open for your constant enjoyment.
Cooper Camp is the paradise of walleye and pike anglers!
Pricing Details
THE PACKAGES
4 days package - $800 5 days package - $950 8 days package - $1,500 All packages start at the opening of the season, around May 20th. Prices are per person. Included in each package
Three generous meals per day during your stay
Boat, motor, and gas for 2 anglers
Life jacket, landing net, security kit
Non resident fishing license
Help from one of our experienced guides
All taxes applicable in Quebec and in Canada
NOT INCLUDED
Sleeping bag
Sheets
Pillowcases
Personal effects
Fishing gear
Tips
Want to personalize a package? Give us a call today!
Breakdown
Montreal / Pierre Elliot Trudeau International Airport, Que (YUL)
From May 25th to October 31st
All Day, Multi-Day, Overnight
Perch, Pickerel, Walleye, Northern Pike
Accommodate Disabled Clients?
Trolling, Pole Fishing, Fly Fishing, Bait Casting