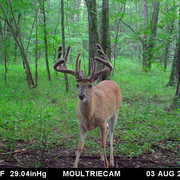 Guided Whitetail and Turkey Hunts
Guided Whitetail and Turkey Hunts at Madison, Indiana (IN) is a Big Game hunt on

private land

that starts on October 1st until January 6th.Costs from 

$1500

 to 

$3650

.We are hunting Deer, Whitetail Deer, Wild Turkey and Eastern Wild Turkey.
Description
Nestled in Southeastern Indiana is a secret place known for legendary deer and turkey. Just a few miles from the Ohio River sits a former military installation with surrounding acreage that has been professionally managed for over a decade to grow giant Whitetail Deer and Turkey.
Triple O (Old Oaks Outfitter) operates in and around the former US Army's Jefferson Proving Ground. We provide a very limited number of high quality semi guided hunts to outdoor enthusiasts from across the country.
With access to over 9,000 acres of hunt-able land, Triple O provide an incredible opportunity for hunters of all walks of life to experience hunts of a lifetime and make lasting memories.
Pricing Details
2018 Deer
2 Day Youth Deer Hunt- $1500
5 Day Archery Hunts- $3150 5 Day Gun Hunt- $3650 5 Day Muzzleloader Hunt- $3150
2018 Turkey
3 Day Guided- $750
*Room and Board Included
Terms & Conditions
Non refundable 50% deposit due upon booking
Breakdown
From October 1st to January 6th
Deer, Whitetail Deer, Wild Turkey, Eastern Wild Turkey
Accommodate Disabled Clients?
Handgun, Rifle, Bow, Crossbow, Shotgun, Muzzleloader