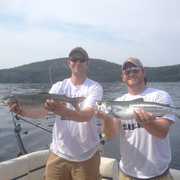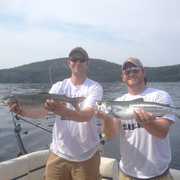 Lake Superior Fishing
Lake Superior Fishing at Michigan (MI) is a Fishing trip.We are fishing

Trout, Salmon, Bass, Sunfish, Perch, Pickerel, Smallmouth Bass, White Crappie, Black Crappie, Walleye and Northern Pike

.

Costs from

$375.00

to

$1,100.00

.
Description
Sand Point Charters, LLC will provide a fun and relaxing day on the inland lakes or Lake Superior away from the daily stress. You will enjoy fishing on Lake Superior, lighthouse cruises, scenic tours or catch trophy fish or just soak up the sun aboard the 30 foot "Fishin Mission" or the 19 foot "Helm-N-Buoys". It's perfect for fishing for lake trout, or seeing some of the lake's old lighthouses and Keweenaw's beautiful shoreline.
On Lake Superior, Lake Trout is the most common catch, (see my post on "Dispelling the Myth… Eating Lake Trout) but we also catch many Coho Salmon, some Steelhead and King Salmon and an occasional Brown Trout. Walleye, small mouth bass, pike, crappie, rock bass or perch are all possible on Lac La Belle.
We will take you alone, or up to a party of 6 on our very comfortable and safe 30 foot Cruiser or a smaller party on the 19 foot Harbercraft.
Pricing Details
Half Day: $375 - $525 Full Day: $500 - $1,100
All "Trip" rates are TOTAL cost for TWO people, NOT per person price.
Maximum 6 clients per Charter on the Fishin Mission and 4 clients per charter on the Helm-n-Buoys. All times are approximate and include cruising to and from fishing waters. No "ADD'L Client" charge for kids 15 and under.
Terms & Conditions
Trips are weather dependent and decided by the Captain.
$100 minimum reservation deposit required all Charters.
$150 deposit for full day or Stannard Rock charters.
Michigan Fishing License NOT included in rates, you must buy your own license if applicable.
We can also take you to Stannard Rock Lighthouse, Huron Island and Granite Rock Lighthouse. Contact us for prices for these or any other custom trips!
Breakdown
Trout, Salmon, Bass, Sunfish, Perch, Pickerel, Smallmouth Bass, White Crappie, Black Crappie, Walleye, Northern Pike
Accommodate Disabled Clients?