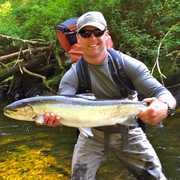 Fishing
Fishing at Alaska (AK) is a Fishing trip.Costs from 

$250

 to 

$3195

.We are fishing Trout and Salmon.
Description
Sitka Fish Outfitters offers a variety of freshwater packages. Sitka Fish Outfitters offers both Boat Access and Float Plane Fly Fishing packages. For custom packages please contact us for pricing. Sitka Fish Outfitters does not operate its own lodge. Other lodging options include vacation rental homes and apartments, B&Bs, and remote US Forest Service cabins.
Additionally, we offer saltwater fishing for salmon and bottom fish. Please call for prices and options for combo freshwater/saltwater packages or saltwater only multi-day trips.
Pricing Details
Daily Trips, No Lodging:
Half Day Boat Access Fly Fishing - $250* (5 hr trip, 4 hrs fishing) Full Day Boat Access Fly Fishing - $375* (9 hr trip, 8 hrs fishing) Full Day Float Plane Access Fly FIshing - $625 to $725* (9 hr trip, 8 hrs fishing)
Multi Day Trips, Lodging Included:
3 day boat access fishing/4 nights lodging - $1,795* 2 days boat access and 1 day float plane access/4 nights lodging - $2195* 2 days float plane access and 2 days boat access/5 nights lodging - $3195* Prices are per person based on double occupancy
Included in Rate: Meet and greet at Sitka airport, cruise ship dock or lodging location Transportation to and from lodging to boat or float plane each day Hot and cold soft drinks Catered Lunches by Homeport Eatery on full day and multi-day trips
Not Included in Rate: State fishing licenses and tags ($20/day, range from $35 to $85 for multi-day) Alcoholic beverages, however we can stop at liquor store before we embark City Sales Tax (6%) Breakfasts and Dinners for multi-day packages Fish Processing, if any
Breakdown
Sitka Rocky Gutierrez Airport (SIT)
1/2 Day, All Day, Multi-Day
Accommodate Disabled Clients?