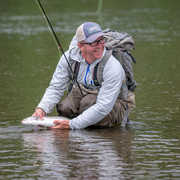 Fishing
Fishing at Alaska (AK) is a Fishing trip.Costs from 

$6600

.We are fishing Salmon.
Description
Located in the heart of the Alaska Peninsula on a rare parcel of private property, surrounded by over 4 million acres of Federal Wildlife Refuge, Painter Creek Lodge has been providing small groups of guests with exceptional fishing and hunting opportunities since 1983. Our "home" waters, 100 miles south of King Salmon, Alaska, is a 50 mile stream and river system draining into Bristol Bay, and supports a world class fishery. There is no other access to the system, making it, in essence, a private fishery. The vast majority of our guests have never seen another angler; At Painter Creek you can truly have a wilderness stream all to yourself. At Painter Creek you can experience a full range of river and stream fly fishing,from trophy char in a crystal clear creek winding through tundra beneath glacier clad peaks, to 30 pound king salmon in the tidewater, fresh from the ocean.
Pricing Details
THE RATE OF $6,600 PER ANGLER (DOUBLE OCCUPANCY) IS FOR A ONE WEEK STAY. IT IS ALL INCLUSIVE FOR MEALS, LODGING, GUIDE SERVICEs, AND R/T AIR CHARTER FROM KING SALMON TO THE LODGE.
IT DOES NOT INCLUDE: LICENSE OR TAG FEES, GRATUITIES, OR ANY COSTS INCURRED AS A RESULT OF UNFORESEEN EXPENSES DUE TO TRAVEL ISSUES.
Breakdown
Accommodate Disabled Clients?