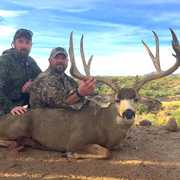 DESERT MULE DEER
DESERT MULE DEER at Hermosillo, Estado de Sonora (26) is a Big Game hunt on

private land

.We are hunting Deer and Mule Deer.
Description
Sierra Madre Hunting has access to the finest Desert Mule Deer ranches in the Sonoran Desert south of the border. All of our 6 day hunts are guided 1 X 1 tracking on foot and using high rack 4 X 4 vehicles. Our hunters expect to see from 4 to 6 bucks a day with an average antlers spread from 28" to 30" and scoring 175+ BC with good chances to get a 200+ monster. All our accommodations are in ranch houses with full size beds, hot showers, flushing toilets, warm rooms and 120V generators. We will pick you up at the Hermosillo International Airport where one of our representatives will assist you for custom clearing and drive you to one of our hunting ranches. Our hunting season runs from December to January where you will be hunting the pre-rut and the rut increasing the odds for a trophy deer. You can always hunt for a Coues whitetail deer after you take your mule deer, for an additional trophy fee.
For pricing details contact the Outfitter!
Breakdown
Accommodate Disabled Clients?