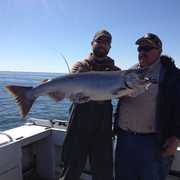 Fishing
Fishing at Alaska (AK) is a Fishing trip.Costs from 

$150

 to 

$195

.We are fishing Salmon and Flounder.
Description
Halibut fishing is the premier fishing of Alaska, and something everyone should do at least once during their stay. You could be landing fish like this if you choose a halibut trip in Cook Inlet, the most prolific halibut fishery in the world. Halibut LOVE its flat sandy gravel bottom and thrive on the ecosystem's food chain of herring, cod, salmon, and crab. Even though every halibut isn't a "barn door", your likelihood of catching your limit is excellent, and every fish caught yields mounds of succulent boneless white meat. If you are yearning for the prized Alaska Chinook "King" Salmon, our location provides two distinct opportunities to fulfill your dream. The first run is in May and June and the second one is the month of July. Silvers by the Hundreds! In late July and August the plentiful wild Alaskan Coho "Silver" salmon draws folks from all over the world to Seward. These acrobatic fish are pound-for-pound the best fighting fish in the world.
Pricing Details
2016 Prices
Halibut $225.00 per person
KASILOF RIVER KINGS 2 people – $195 3 people – $175 4 people – $150 minimum 2 people (prices based per person)
Please note these offers may not be combined with any other offers or discounts. Must mention this special at time of reservation. Not retroactive to prior reservations.
Breakdown
Accommodate Disabled Clients?