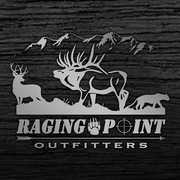 Arizona Bull Elk & Cow Elk Hunts
Arizona Bull Elk & Cow Elk Hunts at Arizona, Arizona (AZ) is a Big Game hunt on

public land

that starts on September 24th until December 9th.Costs from 

$1975

 to 

$5275

.We are hunting Elk and Rocky Mountain Elk.
Description
Our rocky mountain elk hunts are featured in the heart of Arizona. Early Archery season elk, muzzleloader elk, late or early season rifle elk hunts or cow elk hunts are offered at Raging Point Outfitters. Call 928-978-4943.
Pricing Details
Hunting License ($37) Non-Resident License ($160) Resident Draw-Tag ($148) Non-Resident Draw-Tag ($565) Guided Hunt Bull ($4,275) Guided Hunt Cow ($1,975)
The AZ Elk Draw takes place annually the second Tuesday in February, the next draw deadline is February 9th, 2021. Don't miss it! Contact us for any application or hunt questions. AZGFD hunting license can be purchase and you can apply for the AZ draw on online at AZGFD website.
Trip available on Sept 24th 2021 - Dec 09th 2021
Terms & Conditions
*A hunt contract and waiver agreement must be signed by all clients
*Outfitter/Guide fee doesn't include your AZGF hunting license or permit
*Additional spotter ($250) per day (Highly recommended on elk & deer hunts)
*Extended Hunt day on Guided Hunts is ($350) per day (due before hunt)
*Extended Hunt day on Outfitted Hunts is ($550) per day (due before hunt)
*Non-Hunter fee ($150) per day
*Credit Card fee 4.5% per transaction
*A 50% non-refundable deposit is due 7 days with contract and waiver, copy of
*Drivers License and AZGFD Hunting License to hold booking, balance is due 30 days before your hunt date begins.
All clients are responsible for game processing, shipping of meat, pelts, antlers, & horns. Ice for storing meat & pelts, taxidermy fees and cost of lodging before/after hunt. Booking is limited, when drawn or to schedule a OTC hunt call us to book your Arizona predator or big game trip.
Breakdown
From September 24th to December 9th
Accommodate Disabled Clients?
Bow, Rifle, Muzzleloader, Crossbow