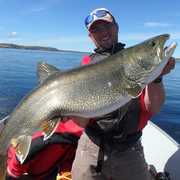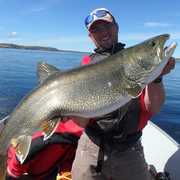 Lake Trout Fishing in Northwest Territories
Lake Trout Fishing in Northwest Territories at Northwest Territories (NT) is a Fishing trip that starts on July until September.We are fishing 

Trout, Grayling, Lake Trout and Arctic Grayling

.

Costs from

 $4,500

 to

 $8,000

.
Description
Best locations for Lake Trout fishing in Canada
Pricing Details
Fishing Full Package Price for a 5 day fishing trip: $4,850 USD based on double occupancy 10day fishing trip: $8;000 USD based on double occupancy April dates 2018 The fishing Package Includes:
• Round trip airfare from Yellowknife then to the lodge on a charter float plane • Daily breakfast and dinner in the lodge and a packed or shore lunch • Furnished cabins • Portable fish finders
Packages DO NOT include:
• 5% GST • Fishing License • Equipment / Tackle • Personal Gear • Gratuities • Alcoholic beverages and mix • Cancellantion insurance • Any expenses before or after incurred due to delays caused by inclement weather, mechanical or other reasons beyond our control.
Terms & Conditions
IMPORTANT Aylmer Lake Lodge NWT, will book your fishing trip on a "first come, first served basis." Reservation requests must be faxed to (780) 324-2733 or emailed to info@(url removed). Aylmer Lake Lodge will confirm your request via fax, telephone, or email. Once your fishing reservations is confirmed (via fax/tel/e-mail); we will hold it on a tentative basis for 7 days pending your confirmation. Your deposit (made out to Aylmer Lake Lodge) of 50% of the fishing trip cost USD. These funds must be cashiers cheque, Email Transfer (in Canada), wire transfer and must arrive within the 14 day period after our confirmation of your request, or your reservation will remain open for booking. All deposits are non-refundable. The remainder of the fishing trip cost must be in our hands by May 1 of the fishing trip year. Please note that fisherman booking alone or with one or two partners will be paired up with other fisherman. We prefer to book, "full groups" versus "mixed groups." Preferences will be given to groups of four. As of December 31, 2006 all citizens traveling into or through the United States by air or sea will require a valid Passport or other acceptable documents to enter the country. The regulation will also apply to American citizens, including our US clients returning to the States after your fishing trip. On December 31, 2007, it extends to land entries into the United States.
Breakdown
Yellowknife Airport (YZF)
From July 01, 2017 to September 04, 2017
Trout, Grayling, Lake Trout, Arctic Grayling
Trolling, Fly Fishing, Spin Casting
Accommodate Disabled Clients?