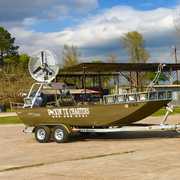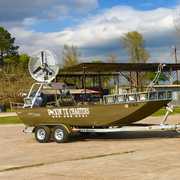 Bowfishing Trips Texas
Bowfishing Trips Texas at Denton, Texas (TX) is a Fishing trip.We are fishing 

Gar, Carp, Alligator Gar, Longnose Gar, Shortnose Gar, Common Carp and Grass Carp

.

Costs from

 $150.00

 to

 $1,500.00

.
Description
Rockin' TX Charters is a licensed bowfishing service around the DFW area. Trips start around 8pm and end at 12 midnight, you will be shooting at Carp, Gar, and Drum on a 250hp custom jet boat or pusher fan boat
Trips are 4 hours of fishing at $150 a person and every extra hour is $100. 1-4 people, we can take up to 15 call for more information and pricing.
When you come on a trip all you have to do is show up with a valid fishing license and get ready to have a great time. We supply all the bows and equipment you need to go bowfishing. We guide people from first time shooters to professionals. If you've never hunted with a bow or been bowfishing, we will be happy to walk you through all the steps on how to shoot a bowfishing rig. However, we only provide water for the trip, anything else would need to be brought such as snacks or other drinks.
Also we do not provide lodging and we guide at Lake Ray Roberts, Lake Texoma, Possum Kingdom Lake, and more just call or text Gavin at (940)
Breakdown
Gar, Carp, Alligator Gar, Longnose Gar, Shortnose Gar, Common Carp, Grass Carp
Accommodate Disabled Clients?