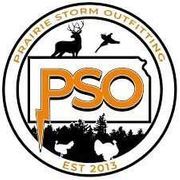 Whitetail Deer Hunting in Kansas
Whitetail Deer Hunting in Kansas at Prairie View, Kansas (KS) is a Big Game hunt on

private land

that starts on September 15th until December 31st.Costs from 

$3000

 to 

$3800

.We are hunting Deer and Whitetail Deer.
Description
Kansas Whitetail hunting at it's best. Kansas can be a very magical place to chase big mature whitetails and we are fortunate enough to be located in one of the most populated areas in the state. Our North Central Kansas location constantly produces giant whitetails year after year. Our 100% private properties are full of healthy bucks, does, and fawns so our herd continues to not only gain great body mass but also big racks! Healthy bucks equal big bucks! Our management program throughout the year ensures we are keeping all our deer healthy and very low pressured, giving our clients the best opportunity at what they paid for. We only take a max of 5 hunters per week and we do not hunt the same properties that the group hunted before you, allowing our deer to continue their pattern and not be pressured into going nocturnal or worst yet, leave our property for the season. Arrow Seed Food Plots and Big and J nutritional feed keeps our deer around and keeps them growing. We have no size l
Pricing Details
5 days/6 night Package Price: $3,000 per hunter for early/late archery season Price: $3,400 per hunter for Rut archery season Price: $3,800 per hunter for Muzzle loader/Rifle season
7 days/8 night Package Price: Call for Pricing
Deposit: A non returnable 25% per hunter to lock in dates Deposit: Can be moved up to 1 full season in case of cancellation
**Discounts on groups of 4 or more (5 max)
Non Hunting Guest: $80 per night

Included: Lodging, meals, transportation from lodge and nearest airport, guiding, tree stands/blinds, game cleaning, & storage

Not Included: Hunting Lic. & Game Tag

Harvest Fee: None

Size Limit: Maturity is big for our operation, we strive at shooting mature bucks so our genetics and continue for years to come
*References available upon request
Terms & Conditions
Payment Information
25% Deposit required to hold dates non-refundable
Additional payment not required until you arrive for your hunt.
Upon booking, deposits are required before any dates will be held. First come first serve.
Credit cards, Cash, and Checks only (Cards will have added 5% for process/tax fees)
Cancellation Policy
Cancelled hunts are not refunded, but a replacement may be found
Deposits can be moved up to 1 full season
Gratuities
Breakdown
Hays Municipal Airport (HYS)
From September 15th to December 31st
Accommodate Disabled Clients?
Bow, Rifle, Muzzleloader, Crossbow