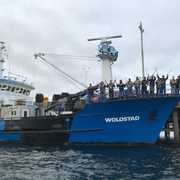 Adak Island Caribou Hunting in Alaska
Adak Island Caribou Hunting in Alaska at Kodiak, Alaska (AK) is a Big Game hunt on

public land

that starts on October 1st until October 31st.Costs from 

$4250

 to 

$5100

.We are hunting Duck, Grouse, Sea Duck, Dabbling Duck, Caribou, Green-winged Teal, Harlequin Duck, Rock Ptarmigan and Barren-ground Caribou.
Description
Our vessel-based Adak caribou hunts are a truly unique adventure; caribou, duck, and ptarmigan hunting, along with fishing. NO bears! No biting insects! No thorny brush! Caribou numbers reaching record numbers!
The Adak caribou numbers are extremely high with most animals concentrated in the hard to access areas of the Island. With our vessel-based hunts, you will find yourself at these hard to reach places, giving you the opportunity to experience some of the best hunting and fishing Alaska has to offer.
These vessel-based hunts offer hunters more than just fantastic un-guided caribou hunting opportunities. The fishing, duck and ptarmigan hunting add to the experience. Halibut, Rock fish, and other tasty deep-sea fish await the angler looking to add to their experience. For more of a variety, try doing some sea duck hunting. It's your trip, you decide, our crew is there to assist you.
Pricing Details
6 days/7 nights Package Price: $5100 per hunter Deposit: $1275
Terms & Conditions
Payment Information
- 25% non-refundable deposit required.
Balance is due in full 60 days prior to hunt.
No credit cards. Cash and checks only
Cancellation Policy
No rain checks unless schedule permits
Cancelled hunts, deposits will be forfeited. In the event a replacement may be found for the same time period, a 15% re-booking fee will be charged and remaining balance for that week will be refunded.
Gratuities
Customary, but not required
Breakdown
From October 1st to October 31st
Duck, Grouse, Sea Duck, Dabbling Duck, Caribou, Green-winged Teal, Harlequin Duck, Rock Ptarmigan, Barren-ground Caribou
Accommodate Disabled Clients?
Muzzleloader, Crossbow, Handgun, Shotgun, Rifle, Bow