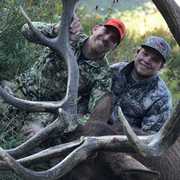 Coyote / Predator Hunting in Arizona
Coyote / Predator Hunting in Arizona at Arizona (AZ) is a Varmint Hunting hunt that starts on January 1st until December 31st.Costs from 

$400

.We are hunting Fox, Lynx, Coyote, Gray Fox, Bobcat and Mountain Lion.
Description
Predator Hunts We love to predator hunt anytime of year! Arizona has some of the best coyote hunting in the country, with many opportunities to take, badger, fox, bobcat and even Mt lions. Our guides live for the hard charge of a predator coming to the call. These are very fun and exciting hunts with 100% opportunity in past 5 years. We are booking 1 to 5 day hunts guided only $400 per day
Want to test your skills or Up your predator game? Try bowhunting for coyotes Renowned predator hunter John Stallone specializes in bowhunting predators… He has developed tactics for bowhunting predators with high success.
Pricing Details
$400 per day
or
3 daysPackage Price: $1,100 per hunter Deposit: $700
Food & Lodging: not included guided only
Full Day Hunt Price: $400 per hunter Deposit: $200
Terms & Conditions
Payment Information Hunt Packages are non-refundable Packages booked within 30 days of the hunt must be paid fully at the time of booking We prefer paypal, Venmo or check and cash for payment if you would like to use credit cards a 4% fee will be added
Cancellation Policy No rain checks unless schedule permits Cancelled hunts are not refunded, but a replacement may be found Gratuities Customary, but not required Guides: 20-25% of the hunt price
Breakdown
Phoenix Sky Harbor International Airport (PHX)
From January 1st to December 31st
Fox, Lynx, Coyote, Gray Fox, Bobcat, Mountain Lion
Accommodate Disabled Clients?