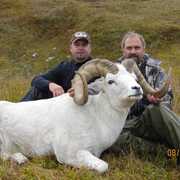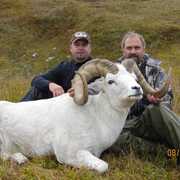 Grizzly over bait in Alaska
Grizzly over bait in Alaska at Copper Center, Alaska (AK) is a Big Game Hunt on

private land

that starts on May until June.We are hunting

Bear, Black Bear, Brown Bear and Grizzly

.

Costs from

$8,000.00

to

$18,500.00

.
Description
Spring grizzly and black bear hunts over bait in the Alaska interior. We hunt from double ladder stands May and June.
What to Expect
Late night hunting time. We have near 24 hours of daylight.
Gear & Equipment
Here is the list of items you are definitely going to need:
Boots - knee high insulated similar Muck boot - rubber sole preferred, vibrium noisy
Extra socks 3-4 pair -Long johns [top and bottom] -Quiet hunting pants-heavy for May - 2 pair -T-shirts & underwear 3-4 pair -Quiet long sleeve warm shirt -Fleece hoodie or equivalent
Quiet warm lightweight coat or jacket, no nylon, too noisy -Quiet extra warm coat for May & early June with quiet shell -Gloves 2 pair, one light weight & one warm - fleece best -Warm hat to cover your ears- fleece best -Quiet light weight rain gear -Handkerchief
Quiet light daypack that will fit cloths and food for the day -Rifle or weapon
2 boxes of bullets - contact us if using our rifle -Knife -Personal gear, tooth brush, etc. -Camera -Binoculars [optional] -Safety Harness if you have your own. We have them also.
Pricing Details
(url removed)
7-8-day spring Grizzly/Black Bear Hunts $16,500 Grizzly Bear ONLY
$18,500 1 Grizzly & 1Black Bear
5 day spring Black Bear Hunts over bait $8000 2 Black bears either 1 Black & 1 Color Phase or
$9000 2 Color Phase [40-50% of our black bears are color phase]
5-day Black Bear Only $4000
Hunters who wound a bear ARE FINISHED HUNTING that animal & wounded Grizzly rifle hunters will PAY the $7000 trophy fee. All bait stations are less than 50 yards.
Non-resident hunters must purchase Alaskan hunting license, black bear tag, & grizzly tag prior to hunt.
Non-resident Hunting License $160.00 Non-resident black bear tag fee $450.00 Non-resident grizzly tag fee $1000.00
Non-hunting companion is $2500 5-day & $2500 7-8 day hunts. All hunts are one hunter and one guide. A black bear can be taken on a grizzly tag if not successful on grizzly.
Terms & Conditions
Policies 50% Deposit is required with a booking for a hunt. The balance is due upon arrival. Your deposit/payments are "Not" refundable. Your deposit is our guarantee of your booking being reserved for your hunt-dates. You may find a substitute for your hunt but the transfer of funds is your responsibility. Once we sell a hunt, those hunt dates are no longer available. If there is a emergency we am willing to work with you.
Hunts are one guide to one client unless family. Alaska Hunting Adventures has a land use agreement with the local Native Village to give a portion of the meat from your trophy to the village council. There is NO compensation for travel delays, weather, or early departure.
Physical Requirements
IF WE CAN GET THEM INTO A TREE LADDER STAND 14 FEET HIGH?
Permit & Tag Application Process
OVER THE COUNTER
Breakdown
Fairbanks International Airport (FAI)
Bear, Black Bear, Brown Bear, Grizzly
Bow, Rifle, Muzzleloader, Handgun, Crossbow
Accommodate Disabled Clients?