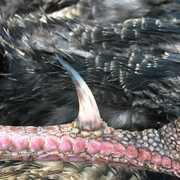 Wild Hog Hunts
Wild Hog Hunts at Florida (FL) is a Big Game hunt on

private land

.Costs from 

$350

 to 

$2000

.We are hunting Wild Pig.
Description
Hog hunting in South Florida is a bucket list trip for a lot of hunters and a great experience for both beginner and seasoned hunters. Hogs are one of the wariest creatures in the Florida woods but have weak eyesight which is compensated for by their excellent sense of smell and adept hearing. Florida boar hogs have teeth, or cutters, that are sought after by trophy hunters, while female hogs, or sows are one of the tastiest eating critters in the woods.
Terms & Conditions
50% due at time of booking. Remaining 50% due on day of hunt. Cancellations will forfeit deposit or will be rescheduled.
Breakdown
Southwest Florida International Airport (RSW)
Accommodate Disabled Clients?
Bow, Rifle, Shotgun, Muzzleloader, Handgun, Crossbow