Saskatchewan Landing Provincial Park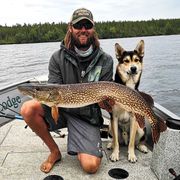 South Saskatchewan River/ Lake Diefenbaker Fishing Charters
South Saskatchewan River/ Lake Diefenbaker Fishing Charters at Saskatchewan Landing Provincial Park, Saskatchewan (SK) is a Fishing trip that starts on June 6th until September 30th.

Costs from $500.00.

We are fishing Trout, Perch, Pickerel, Rainbow Trout, Brown Trout, Walleye and Northern Pike.
Description
This package is an all-inclusive fishing adventure for trophy walleye, northern pike, and world record class rainbow and brown trout in one of Saskatchewan's most overlooked waterways. Lake Diefenbaker is known for producing above average sizes in almost every species it holds. It is also currently the world record holder in rainbow trout and burbot, with many believing that the next world record brown trout will come from its waters. Lake Diefenbaker is also 1 of only 2 lakes in the province of Saskatchewan that supports a reproducing population of rainbow trout. That being said its most population target species continues to be over-sized walleye and nothern pike. With many options for quality fish we can guarantee a successful trip regardless of time of year.
This trip includes:
all-inclusive professional guide service
travel from Swift Current
2020 Lund Pro Guide boat
top of the line electronics
lunch
all rods, tackle, and gear (upon request)
cleaning and packaging
Pricing Details
up to 3 anglers
max. 2 fly fisherman
includes lunch, fuel, and bait
rods, tackle, and gear provided (upon request)
fishing license NOT included
all packages and bookings require a 50% non-refundable deposit.
Prices are shown in U.S. currency. Gratuities for guides not included in cost. GST not included in price.
Breakdown
Saskatchewan Landing Provincial Park
From June 6th to September 30th
Trout, Perch, Pickerel, Rainbow Trout, Brown Trout, Walleye, Northern Pike
Accommodate Disabled Clients?
Trolling, Ice Fishing, Fly Fishing, Bait Casting, Spin Casting