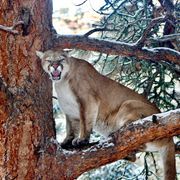 Rocky Mountain Elk Hunting in Wyoming
Rocky Mountain Elk Hunting in Wyoming at Ten Sleep, Wyoming (WY) is a Big Game hunt on

public land

that starts on September 1st until December 21st.Costs from 

$1500

 to 

$7000

.We are hunting Elk and Rocky Mountain Elk.
Description
at O'Brien Creek Outfitters we offer many different options for bull elk hunting! Whether I'ts your first time chasing bulls or you've been applying for 10 years and drew one of our premier trophy bull units we have the ground and the bulls to make your dreams come true. Our hunts run from September through December.
Pricing Details
3 day cow elk $ 1,500.00 6 day bull elk $ 5,500.00 6 day trophy bull elk $ 7,000.00
Terms & Conditions
Please visit our website for refund policy and additional information
Breakdown
From September 1st to December 21st
Accommodate Disabled Clients?
Bow, Rifle, Muzzleloader, Handgun, Crossbow