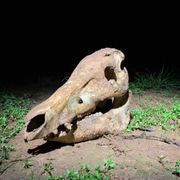 Premium Guided Night Hog Hunting
Premium Guided Night Hog Hunting at Americus, Georgia (GA) is a Varmint Hunting hunt that starts on November 23rd until May 15th.Costs from 

$500

 to 

$2000

.We are hunting Fox, Lynx, Wild Pig, Coyote, Red Fox and Bobcat.
Description
Welcome to Pig Problem Inc.
Get ready to have an adrenaline packed adventure and an overall epic night hunt. Not only will you have a blast hunting during the night, but Pig Problem Inc. provides the opportunity to see wildlife in a nocturnal setting. Hunting Feral Hogs is a fun and exciting way to spend quality time with family and friends.
The Where, When, and How
Our night hog hunting adventure starts promptly at sundown on our Range in SW Georgia. This is where we will go over rules, safety, medical response protocol, and get you acquainted with the weapon. You will be given ample time behind the gun to be familiar with its operation and optic.
Using state of the art thermal optics we start hunting by scanning over peanut and corn fields in search of feral pigs rooting up farm fields. Once pigs are spotted we foot stalk as close as possible, situate the tripods, and begin the count down. Three, two, bang! Try to shoot as many pigs as possible with no harvest limit or
Pricing Details
1 night hunt $500 Per person Price: $500per hunter Deposit: $250
Fully Guided from 1-4 hunters NO mixed parties
Unlimited pigs, No Trophy fees, Unlimited butchering
Ammo, Optics, Supressors, and AR-15's supplied
Custom Night Hunt $500 per per up to 4 hunters Looking to do predators more than wild pigs? We can accommodate most hunting situations if your targeting other species like bobcat, fox or coyotes. Bigfoot Hunts are the same price also.
Terms & Conditions
WHAT NOT TO BRING OR NOT PROVIDED Alcohol will not be tolerated
Drugs, neither illegal nor legal drugs that may impair you
Pets or emotional support animals
Enormous coolers or a trailer full of coolers (bad omen)
Transportation to and from airport
Lodging
Food
Cutting meat in individual pieces
Meat shipping
BOOKING AND CANCELLATION POLICY No Refunds on deposits for booked dates. Only an electronic gift card for future booking
Small convenience fee for booking online, just call or email me to avoid the fee
NO REFUNDS for "No Shows" or cancelations on the day of the hunt
Minimum of 1 hunter to secure a date, maximum of 4 hunters No Mixed Parties
If Alcohol or Drugs are consumed before the hunt, NO REFUND and NO HUNTING!
If no shot opportunity presented itself during the hunt, then an electronic gift card for a future booking will be issued for premium hunts. It can't be broken down into multiple nights per hunter. It must be a single night for the number of hunters involved. You can add hunters if less than 4 for a fee.
Breakdown
From November 23rd to May 15th
Fox, Lynx, Wild Pig, Coyote, Red Fox, Bobcat
Accommodate Disabled Clients?