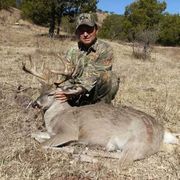 Gould's Wild Turkey Hunting in Estado de Sonora
Gould's Wild Turkey Hunting in Estado de Sonora at Sahuaripa, Estado de Sonora (26) is a Upland Game hunt that starts on March 19th until May 30th.Costs from 

$1850

.We are hunting Wild Turkey and Gould's Wild Turkey.
Description
Come and have fun hunting the beautiful goulds turkey in Sonora Mexico. Gun permit, Turkey Tag, Trophy Care, Lodging, food included.
Pricing Details
3 days/4 nights Package Price: $1,850 per hunter Deposit: $925
Terms & Conditions
Payment Information
Hunt Packages are non-refundable
Packages booked within 30 days of the hunt must be paid fully at the time of booking
No credit cards. Cash and checks only
Cancellation Policy
No rain checks unless schedule permits
Cancelled hunts are not refunded, but a replacement may be found
Gratuities
Customary, but not required
Guides: 10-15% of the hunt price
Breakdown
From March 19th to May 30th
Wild Turkey, Gould's Wild Turkey
Accommodate Disabled Clients?