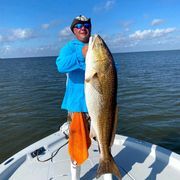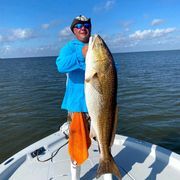 Louisiana Fishing Charter - All Day
Louisiana Fishing Charter - All Day at Saint Bernard, Louisiana (LA) is a Fishing trip.We are fishing 

Trout, Amberjack, Grouper, Croaker, Mackerel, Porgy, Snapper, Triggerfish, Flounder, Wrasse, Tilefish, Dolphinfish, Tripletail, Black Drum, Red Drum, Spot, Silver Seatrout, Spotted Seatrout, Sheepshead, Hogfish, Mahi-mahi and Cobia

.

Costs from

 $650

 to

 $1,350

.
Description
Your Louisiana Inshore Fishing Charter Trip Includes rod and reels, gas, bait, fish cleaning services, ice and water. Please plan on bringing your own snacks.
If you have more than 5 anglers in your group, please contact us. We have multiple charter boats and captains and can accommodate larger groups.
Each person 16 years old and older will need to purchase a $10 three-day charter passenger license. ‍ Plan on bringing a large ice chest, sunscreen, sunglasses, hat, snacks, and sodas.
You will meet your Hook Dat Fishing Charter Captain around sunrise at the docks. The all-day fishing trip will generally run about 9-10 hours and you will arrive back at the docks around 3 PM.
While fishing with the Hook Dat Fishing team you will travel the beautiful marsh bayous and inlets in style. Typical travel time by boat to the 1st fishing hole is anywhere from 10 minutes to 30 minutes depending on what species we are targeting. You may catch a variety of fish such as Redfish, Speckled Trout, Sheepshead, Flounder, Black Drum, Tripletail among others. Louisiana is one of the few places in the world where you can hook into a huge largemouth bass and a variety of saltwater species in the same spot. Louisiana's rich diversity of fish is due to the nutrients of the mighty Mississippi River flowing into nearby estuaries creating the unique conditions for a wide range of fish to thrive. To see a complete list of fish that are common to the Louisiana coast, check out our Louisiana Fish Species page.
When you arrive back at the docks your Fishing Charter Captain will clean and bag all of our days catch for you to take back with you.
If you are fishing multiple days, plan or meeting back up at the docks at the same time the next morning.
Pricing Details
The rate is $950 for up to 2 anglers. It is an additional $100 extra per angler over 2 anglers. 2 anglers is $1050, 3 anglers is $1150, 4 anglers is $1250, 5 anglers is $1350. Includes rods, reels, fish cleaning services, fuel, boat, captain, ice and water.
Terms & Conditions
s a deposit required? ‍Yes. A 25% deposit is required at time of booking. We accept checks, PayPal, Venmo, and all major credit cards for deposit payments to reserve the dates for your trip. Any remaining balances should be paid in full by cash only, day of arrival. You are welcome to pay for your trip in full. If you prefer to pay your remaining balance day of arrival, we only accept cash day of arrival for the remaining balance payment. We will not accept credit cards, checks, or PayPal the day of arrival. ‍ What is your cancellation policy? ‍The 25% deposit is non-refundable. If you cancel your trip at least 21 days prior to your scheduled dates, you can request a refund in full or postpone your fishing dates to a later time. If you need to cancel your trip you must notify us with an official cancellation notice at least 21 days before your scheduled trip to receive a refund. An official cancellation notice can be made through voice mail, e-mail or text message however you must receive a confirmation back from Hook Dat Fishing Charters. If you do not provide an official cancellation notice at least 21 days before your trip, your deposit will not be refunded. If your scheduled trip is canceled due to weather conditions, we will refund your entire deposit or you may change your dates to a future trip. If rescheduling due to weather conditions it must be rescheduled within one year from the date of the original booking. If you do not show up on the day of your scheduled trip, you will be charged the full price of the trip to cover the cost of the bait, mate and captains. ‍ What should I bring? ‍We recommend that all visitors bring the following items with them:
Sunscreen
Non-slip shoes with a white sole or non-marking sole
Hat
Sunglasses
‍In the summer: rain jackets
In the winter, foul-weather gear such as:
Boots with non-marking sole

Warm clothes

Gloves

Waterproof bibs and rain jacket

Food, snacks and soda ‍ What does Hook Dat Fishing Charters provide?‍ Safety is our #1 concern. We provide all the proper safety equipment, including:

Life jackets for everyone on board

Top-of-the-line rod, reels, tackle & equipment

Ice & water

Fish-cleaning services

Fuel
For bowfishing anglers we will provide all necessary bowfishing gear and tackle including bow, reel and arrows. ‍ What types of permits and licenses do I need? You WILL need a three-day non-resident charter passenger license. The price for this license is $10 and can be purchased HERE. You will NOT need a free landing permit.
‍When is the best time for fishing near Shell Beach, Louisiana? ‍That depends on what you would like to catch. Inshore fishing is spectacular year-round in southeast Louisiana. This will give you an idea of what species are most prominent during certain times of the year.
Speckled Trout (April to November)
Flounder (March to November)
Redfish (year-round)
Black Drum (year-round)
Sheepshead (year-round)
Red Snapper (May 22 to August) *subject to season dates
Mangrove Snapper (May to August)
Tripletail (March to November)
Grouper (April to August) *certain Grouper species subject to season dates
Mahi-Mahi (April to August)
Alligator Gar (year-round)
Cobia (May to November)
Amberjack (May to June) & (August to November) *subject to season dates ‍ Can I bring my own gear? Yes, you are welcome to bring your favorite fishing rod and tackle. Although we will have all the equipment you will need, we understand that anglers have a personal favorite rod & reel so you are welcome to bring your own gear if you want.
Do you offer any corporate packages? ‍Yes, we do offer corporate and small business packages. Please call or email us to discuss your corporate package needs and to customize your fishing trip. ‍ What is the maximum # of anglers I can have in my group? ‍We have multiple boats and experienced captains. Typically on inshore fishing trips we like to keep our group size to 4-5 anglers per boat. So, if you have 4 anglers in your group then we would use 1 boat and 1 captain, if you have 20 anglers in your group we would use 4 boats and 4 captains.
Breakdown
Louis Armstrong New Orleans International Airport (MSY)
Trout, Amberjack, Grouper, Croaker, Mackerel, Porgy, Snapper, Triggerfish, Flounder, Wrasse, Tilefish, Dolphinfish, Tripletail, Black Drum, Red Drum, Spot, Silver Seatrout, Spotted Seatrout, Sheepshead, Hogfish, Mahi-mahi, Cobia
Trolling, Bait Casting, Fly Fishing, Pole Fishing, Spin Casting
Accommodate Disabled Clients?