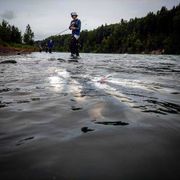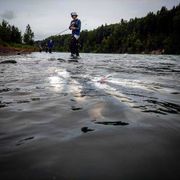 Early season Sockeye/Chinook Salmon Fishing in Alaska
Early season Sockeye/Chinook Salmon Fishing in Alaska at Kasilof, Alaska (AK) is a Fishing trip that starts on June until June.We are fishing 

Salmon, Chinook Salmon and Sockeye Salmon

.

Costs from

 $255

 to

 $1,020

.
Description
Our early season King/Sockeye combo trips are often done on the Kasilof because the runs of salmon are often earlier on the Kasilof than the Kenai. These trips are longer ranging from 9-11 hours of fishing so we can properly target each species.
What to Expect
King salmon and sockeye salmon runs start to pick up in June and the water levels are often lower allowing for easy onshore angling and flyfishing.
Pricing Details
Price per head is $255 U.S. Dollars and each boat can fit up to four people. This price does not include gratuities.
Terms & Conditions
We require a 50% deposit at time of booking and the other half 30 days before the fishing trip. If regulations change and you are not allowed to fish for a species, we will refund the trip or offer you another species to target in place.
Accessibility
Please call if any members of your party have a disability as we try to accommodate all types of anglers but also must consider the safety of everyone.
Physical Requirements
Must be able to enter and exit a boat
Permit & Tag Application Process
Buy your fishing license and King Stamp at any local store in Alaska
Breakdown
Anchorage International Airport (ANC)
From June 02, 2023 to June 30, 2023
Salmon, Chinook Salmon, Sockeye Salmon
Fly Fishing, Bait Casting, Spin Casting
Shoreline, Drift Boat, Wading
Accommodate Disabled Clients?