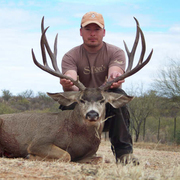 Texas Hunts
Texas Hunts at Texas (TX) is a Big Game hunt.Costs from 

$795

 to 

$3495

.We are hunting Deer, Mule Deer, Whitetail Deer, Wild Turkey and Rio Grande Wild Turkey.
Description
We hunt the west central and southern part of the state. This is a great hunt because the hunter is allowed to harvest 6 different types of game. We try to focus on those counties that the hunter has a good chance of havesting a nice mature deer, wild boar, turkey, javelina, bobcat and a coyote. This is one of our most popular hunts we offer. Hunts are in the months of October, November and December.
If you are looking for a true challenge, then the Rio Grande turkey is it. We prescout all areas where the hunt will take place and set our hunters out each morning and let them do their own calling. Hunts are in the month of mid March thru mid May.
Whether you are looking for some meat to fill the freezer or a trophy to hang on the wall, this hunt has it all. Any minute you can be looking down the barrel at a 200 pound plus trophy wild boar or a pack of a dozen or more in the 100 pound range.
Pricing Details
** Deer texas special: cost - $3495 for 5 full days of hunting, you pay $1995 before hunt starts and you are still allowed to harvest 5 of the 6 animals. When you see the trophy you want, if it has 10 points or more you pay $1500 after you harvest. If your trophy has 9 points or less you pay $500. It's your choice, if you don't see a trophy you want, you go home with money in your pocket. Hunt includes: lodging, meals and transportation to and from airport.
** turkey hunt: cost - $995 for 3 days - limit is 2 long beards. Cost - $1295 for 5 days, limit is 2 long beards.
Breakdown
Deer, Mule Deer, Whitetail Deer, Wild Turkey, Rio Grande Wild Turkey
Accommodate Disabled Clients?