I've tried a variety of trail cameras for the purpose of following animal movements on my property. And I travel frequently so remote access is a must. Then the issue becomes: how to have adequate coverage without paying for multiple cellular accounts? Those charges add up quickly and are not only expensive, but annoying having images come in through multiple accounts.
A few years ago at the Archery Trade Association show, Cuddeback was advertising 16 remote cameras attached to a single home camera across a large range. It caught my attention immediately. I was skeptical— especially of the impressive range. Having dense foliage, rolling hills, creeks, and other wireless-signal impediments on my farm in rural Pennsylvania, I was certain the system would fail. I have since deployed the Cuddeback CuddeLink system and have been extremely impressed, continually adding nodes to my network each year.
You may be asking yourself, "What do I need to get started?" "What's the difference between the home cam and a remote cam?" "Some cameras don't even seem to have a lens?" Below I share my experience with the CuddeLink system, what I've learned, how I use it, and things I wish were different about the system. I'm not a professional reviewer of gear, and I don't like fluffy, artificial, product endorsements. This is my genuine opinion of the Cuddeback CuddeLink system and I hope you find it useful.
THE PRODUCTS:
Cuddeback Products:
Non-Cuddeback Products:
CUDDLELINK NETWORKS:
There are two individual wireless networks involved with CuddeLink: 1) the cellular network (AT&T or Verizon) that uploads images from the home device to the cloud, and 2) the CuddeLink peer-to-peer network that allows your devices to talk to each other without using WiFi. The proprietary peer-to-peer technology creates a wireless camera-to-camera radio network mesh so that multiple remote cameras can "talk to" a single home camera. That home cam can be enabled with cell service for uploading images, or it can be the central hub where you access all network photos through an SD card (without cell service). That is the key feature of CuddeLink. It may sound complicated, but surprisingly it's not.
The CuddeLink K-5796 has three antennas; two of them are tall and flat for picking up the cellular network signal, and the single tubular antenna on the side for the CuddeLink peer-to-peer network signal.
THE SETUP
I use the K-5796 AT&T camera as my home node and six of the J-1422 (the Power House Black Flash G-5079 is a great alternative) as remote cams. Only the home camera has a paid AT&T cellular plan (there is a Verizon version of the K-5789). Your mobile phone carrier doesn't matter — the CuddeLink plans are completely separate from your cell phone plan. I started with Verizon for my camera system, but the Verizon coverage in my area of PA is terrible, so switched to AT&T.
CuddeLink offers three different cell plans at the time of this review, with a 33% savings if you purchase the annual plan vs. monthly plan. Monthly plans can be deactivated and reactivated at any time, which can be a useful and money-saving feature depending on your situation.
Pro Tip: There are ways you can use the CuddeLink system without using a cellular plan.
The Cuddeback website makes managing your cameras and cellular plans easy, allowing you to select which email addresses and mobile numbers (up to nine total) you want your images sent to. This is a great feature if you share a hunting lease or like to send pics to friends and family.
The CuddeLink Home device is another great option if you spend a lot of time at your property because it allows you to check images from up to 15 different CuddeLink cameras all from that device without a cell plan or WiFi. It works on the proprietary CuddeLink network itself, which transmits photos wirelessly from a CuddeLink camera directly to the CuddeLink Home device.
So you have two options when it comes to your home camera. You can set up your K-series AT&T or Version camera to be the "HOME" node (mode = "Home"). Or you can use the CuddeLink Home device as your "HOME" node. The "HOME" node/device is where all the other "REMOTE" cameras will transmit their individual images across the CuddeLink network.
MY NETWORK:
This screenshot shows how I've distributed my cameras on the farm using the onX Hunt app. I've placed Waypoints (a feature within onX) with trail cam icons at each camera location. I annotated either home or remote, numbered them, and included the model number to keep things straight.
SETTING UP YOUR CUDDELINK NETWORK:
The first step is to decide where to place the K-5796 HOME camera, so that it has a solid cellular signal and is as accessible as possible for the remote cameras to transmit images. I chose a location on a hill behind my farmhouse where I know I have a decent AT&T signal (I could see that on my phone), and where I figured it would be high enough to pick up the remote wireless signals. You can test the cell signal using the CuddeLink software on the home cam as well.
TESTING CELL SIGNAL:
Navigate to CELL MENU on the K-5796 and then CELL TEST
Make sure you're in the location where you plan to place the camera before you begin the test. The display will show "BUSY" while the test is being performed. In my experience, if this message is displayed for more than 2 minutes, you have a weak or no signal. If the signal is good, you will see a "SUCCESS" message after 30 to 60 second. If you've configured your mobile phone to receive image uploads, you will also receive a successful test text.
BASIC SETTINGS | HOME CAMERA:
Once you have a solid location for the home cam, it's time to set a few basic settings.
I configured my HOME camera as follows:
LINK MODE = HOME
LINK LOC = 01
Each camera on your network can be assigned a location (LOC) number. I set the HOME node to location 01. You can add more descriptive names (CAM ID) as well like, "CREEKCAM" or "UPPERFIELD." Images from each camera are stored in folders under their individual location number on the home cam's SD card. At one point, I accidentally had two cameras set with the same location number. The system still worked, but my daily status reports were confusing because I didn't take the time to name my cameras with descriptive names.
LINK CHAN = 10
I set the network channel for wireless communication between the remote cams and the home cam to channel 10. You can pick whatever channel you like, or if you have two different home devices, you can have different remotes talking over different channels to the different home devices. This would be very configurable for a more extensive CuddeLink network if you have a larger property.
There are advanced settings outlined in the instruction manual, but I'll skip those for now to focus on the basics.
To install, I highly recommend the Genius Pan Tilt Lock Mount (SKU# 3488). This allows you to create a firm connection to the tree with screws instead of the standard fabric strap that's included with the cams. You can then position the camera just how you want it.
Pro Tip: The Genius Pan Tilt Lock Mount is compatible with the CuddeSafe Security Box.
BASIC SETTINGS | REMOTE CAMERAS:
The next step is to install your first remote camera. Again, I'm using CuddeLink Black Flash (SKU# J-1422) cameras as my REMOTE cameras, but you have options, including the CuddeLink Dual Flash or the CuddeLink Long Range IR. Having the remote camera talk to the home camera is very straightforward. You just need to make sure the remote camera is set as a remote cam, assigned a location number that's not the same as the home cam, and is on the same network channel as the home cam.
Using the menus on the J-series remote cam, first set the
CL MODE = REMOTE:
CL LOC = 02
(Or in this particular case, LOC = 05)
CL CAM = 10
Now it's time to test the network signal between the remote cam and the home cam. Navigate to "CL LEVEL" menu to run a test (the instruction manual will tell you how to get here). Much like the cellular signal strength test on the home camera, the CL LEVEL test could take a minute or two to run. The remote cam attempts to send a signal to the home device to determine how strong the peer-to-peer network signal is. This is important because the remote camera will be transmitting images across the CuddeLink network. Signal strength is determined on a scale of 10 (poor) to 99 (best). Cuddeback recommends keeping levels at 20 and above, but claims they've successfully deployed networks with signal levels as low as 10.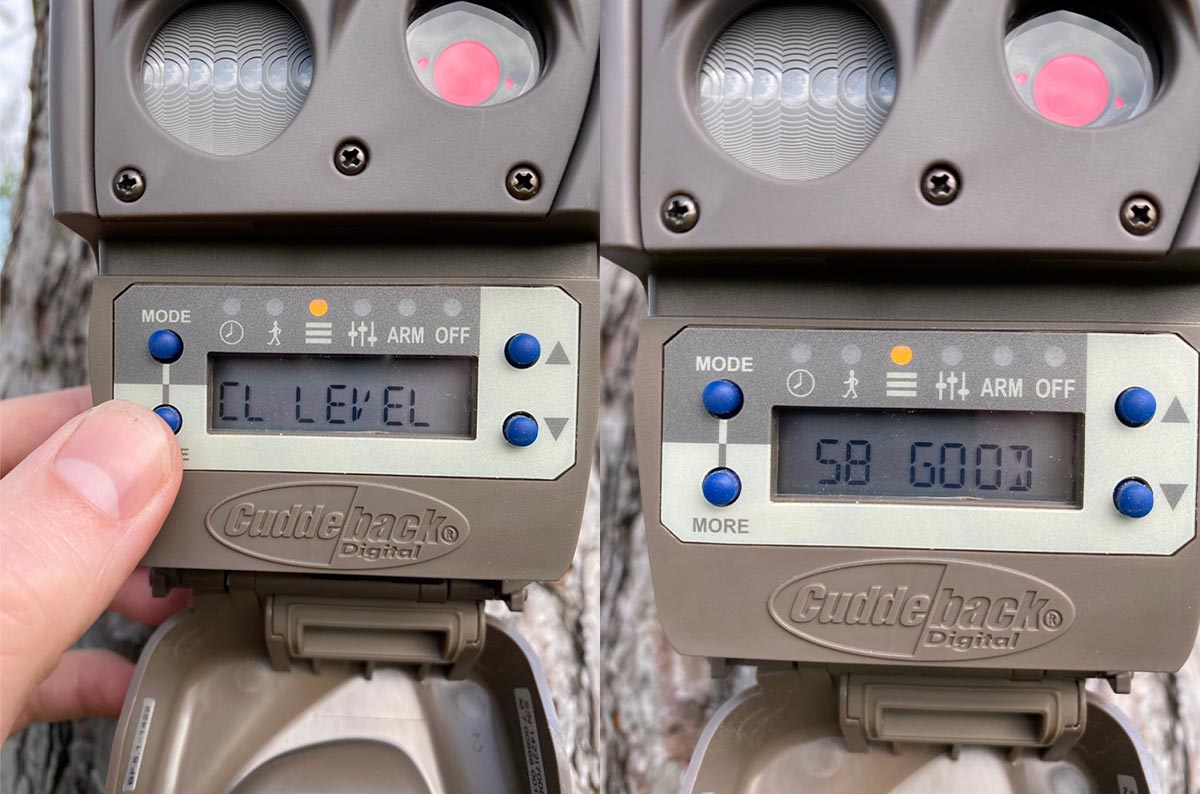 Here is where I was impressed by CuddeLink's proprietary wireless technology: One of my remote cameras is located 731 yards away from the home camera.
It's deployed across the road, across a creek, way up in dense woods on the edge of a small food plot surrounded by tall pines. You can see in the screenshot where these cams are in association to each other. I used the "Line" feature on the onX Hunt app to calculate this distance. Using the CL LEVEL test, I'm getting a signal strength of 26 on this camera, which is more than enough to transmit images. Well done, Cuddeback! Once you're at this stage, deploying the rest of the network is easy. Simply repeat the steps for each remote camera, making sure to choose a unique LOC number and CAM ID.
Pro Tip: The remote camera to home camera connection has nothing to do with cellular signal strength. It's the over-the-air signal between the cameras that doesn't involve cellular signals nor WiFi signals.
REPORTS:
Below is an example of the CuddeLink report that is emailed daily. It allows you to check battery levels, signal strength, firmware version, number of images on each camera's SD card, and how much space is left on each SD card.
THE PHOTOS:
Each remote camera stores a full-resolution version of the images captured on the local SD card installed on that camera. A low-resolution version of the image is transmitted across the network for efficiency. That low-resolution image is then uploaded to the cloud by the home camera. This uses less bandwidth and therefore ends up costing less.
If you find an awesome image that you'd like to have in the full 5MB resolution (or whatever resolution you configured on the cam), you need to visit that camera, grab the SD card, and download the images to your phone, computer, or iPad. There are options for how often photos are sent, the resolution, video recording, and so on.
I bought an Apple USB-C to USB adapter cord for my iPad and a small, USB SD card reader. Simply pull the SD card, insert it into the USB SD card reader, import all the images onto your iPad or iPhone (or use similar adapters if you're an Android user), and then choose to delete all images on the SD card when complete. Re-insert the SD card into the camera, arm it, and you're good to go.
Pro Tip: From time to time, you'll need to clean up the remote SD cards because they will fill up.
SOLAR POWER & SECURITY:
Two additional considerations for your CuddeLink network are solar power and security. I have most of my cameras using the CuddePower Solar Kit Model (SKU# 3501 - now being replaced by the improved SKU#3600), which means I never have to worry about changing batteries. I've had my solar-powered cameras running for well over a year and have never had to worry about drained batteries. The CuddePower Solar Kit comes with mounting hardware that easily attaches to the tree or post near your camera. The Genius Pan Tilt Lock Mount is great as well, if you want more control over how you position the solar panel but I've been using the included mounting hardware with no problems.
For security purposes, I have some of my cameras installed inside the CuddeSafe Security Boxes - CuddeSafe Size J (SKU# 3525) for the Black Flash J-1422 cams, and CuddeSafe Size K (SKU# 3587) for the K-5796 cam, plus a cable lock to secure the camera to the tree. I use the Python cable lock from Master Lock, and they've worked well. You can buy them in various pack sizes and all locks share a common key, making it much easier when you want to go around pulling SD cards or make adjustments to your cameras.
IMPROVEMENT AREAS:
When I first set up this network I ran into some minor annoyances, including how camera configurations are handled. Instead of using tiny LCD screens that require a confusing combination of multiple button pushes and buried menus, I wish there was an app that allowed me to configure the device remotely. I also wish I could modify camera settings without physically going to the device. The folks at Stealthcam, for example, do a decent job with remote camera configuration.
Cuddeback has addressed remote configuration with the newest version of their CuddeLink software — Version 8/Gen 2 Firmware. I tried out a beta version, and it's a significant improvement. It includes remote configuration and several new features, such as the ability to add up to 24 cameras to a single network instead of 16. Updating the firmware is easy, but does require visiting all cameras in the network, physically updating the firmware, and redoing all the settings.
CLOSING:
Overall, I've been very impressed with the CuddeLink system and plan to continue to add more remote J-series cams to my network to get even more coverage on the farm. So far, I can still add 9 more remote cameras to my network and then have all 15 remote cameras transmit pics to the home network that contains the single, paid AT&T cellular account.
I hope this information is helpful and helps demystify the CuddeLink system. Personally, I'm not concerned with super high res imaging, 4K video, or antler-detection algorithms, even though those are cool features. My main goals were to have more camera coverage without worrying about batteries and to lower my monthly costs. The CuddeLink system has worked perfectly for my needs.
Feel free to contact me with questions. There are details I did not cover in this review, such as how to use cameras in REPEATER mode, how to adjust how often you receive photo updates, and how to deploy multiple CuddeLink networks for maximum coverage.
-Bryan Koontz
Founder/CEO
Guidefitter
http://www.guidefitter.com/BryanK