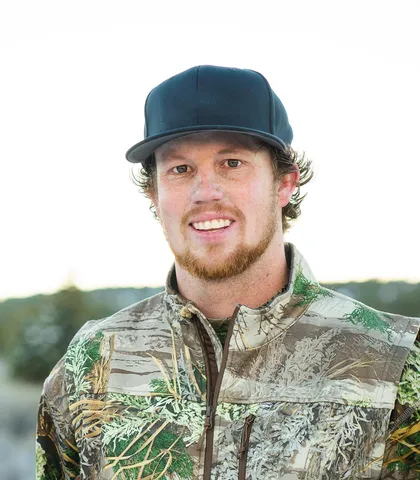 Guide: Trevor Davenport
Where: Enterprise, Utah
I was born and raised in southern Utah. I became a licensed guide in 2011 and am currently licensed in Arizona, Utah, and Nevada. Guiding is the career I love, but it is not going to make me rich. That's why I am so grateful for Guidefitter. The ability to order top-quality gear for a discounted price has been a blessing and in return, my clients see the gear in action and go and buy it themselves.
Alps Outdoorz Commander X+ PACK
This pack is unbelievable. It is two packs in one—a 4,000-cubic-inch external pack attaches to one of the most-comfortable frame packs ever made. It's perfect. About the time you think you have this pack figured out there is more. I have hauled out countless numbers of deer and well over 25 elk with this same pack, and it is still going strong. In 2020 on a late elk hunt in Arizona, I packed out six elk in five days and yes, I was sore and tired but if it was not for the comfort of this pack, I would not have been able to do it. I swear if you load the meat shelf with 100 pounds of meat you would think you were packing closer to 60 pounds.
Lots of straps where you need them—it even has extra straps so when you need the extra length you got it.
Great for backpacking your entire camp.
Well-thought-out frame that carries the weight super comfortably.
The top pouch converts into a fanny pack. So it's literally three packs in one.
Kings Camo XKG Foundation 260 Zip Off Merino Bottom
From September on, I wear my Zip-Off Bottoms from Kings Camo every day. I love this piece of gear. I can now add or subtract my bottom base layer in the field without having to take off my boots.
Ease of removing and putting on without having to take off boots.
Very comfortable having a zipper that runs the entire length of both legs and you cannot feel the zipper at all.
Merino wool keeps in your body heat but also breathes very well.
Can wear it multiple days in a row and it does not stink or get crusty.
These binos are absolutely amazing. I have owned several pairs of binos and have been nothing but impressed with the Mavens. I already own the B5 18x56 binos, B2 11x45 binos, and the Rs.4 riflescope. If I had to pick the must-have it would be the B.5 15x56.
Razor-sharp image.
The ergonomics are perfect.
Super comfortable eyepieces.
Maven will customize optics to your preferences.
Carbon Express Maxima Triad Arrows
When it comes to arrows, welcome to the major leagues with the Maxima Triad. I have been bowhunting for well over 20 years and have spent tens of thousands of dollars on archery equipment—especially arrows. About the time you find one that works, the arrow manufacturer either discontinues them or changes them. I have never been as impressed with an arrow as I have been with the Maxima Triad. I shoot a lot, and with that, I also miss a lot, but these arrows just don't break!
Straighter than straight when measuring the axial runout with a cylinder gauge—it was less than 1/15,000 of an inch.
Deep penetration.
Tough as they come.
Accurate. Plan to buy extra nocks; you will shoot tighter groups with these arrows.
Zeiss Conquest V4 6-24x50 Rifle Scope
Because I am a sponsored shooter for a different optic company, I hate to say this, but you will not find a better hunting scope for the money than the Conquest V4. I have been around every scope out there and have yet to see this scope not perform. The adjustments are crisp, the glass is clear, it is lightweight, and always returns to zero.
Best-value hunting scope
Precise adjustments
Great reticle choices
Lightweight but tough
Very clear glass even at low light